Donkey

Character Information
Gender
Male
Species
Donkey
Family
Unknown
Age
Unknown
Production Information
Voiced
by
Eddie Murphy
Donkey is a character in Father of the Pride. He only appeared in the episode of the same name.
Biography
Edit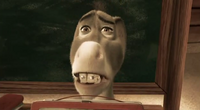 Donkey is from DreamWorks' Shrek franchise. He is one of Shrek's best friends. Donkey guest starred in one episode of Father of the Pride.
Personality
Edit
Donkey is a total chatterbox and constantly annoys everyone with his talking and singing. Regardless, he still remains as Shrek's best friend.
However, in the series, Donkey is an arrogant, self-absorbed famous jerk, steaming from his life of being bullied in school and from his life of stardom and money. He is also selfish and self-centered as he refused to go to Hunter's school due to the children throwing fits and instead suggested to Larry to inform his son about the upcoming Shrek the Third. Donkey was also unconcerned for his stunt double's well-being and when Jermece was injured, he told him to do it again, but more dangerous. Of course, this isn't canon to the Shrek franchise.
However, he showed a little compassion for Hunter since the teasing reminded him of the bullying he got in school as a teenager.
Appearance
Edit
Donkey is gray and has a black mane. He has brown eyes.
In his youth, he wore braces.
Donkey being bullied was later used as a one-liner in Shrek the Third.
He is the first DreamWorks character from a film to appear in a TV series. The next ones were the Penguins, Julien, Maurice, Mort, and the chimps from the Madagascar franchise, followed by the Kung Fu Panda characters.
Donkey said that Shrek the Third would come out in 2006, but it was eventually released in 2007. The reason for this is unknown.
He is the only character from a film to appear in the series.